The Santa Cruz Public Libraries (SCPL) have created a collection of lendable technology devices that can be checked out with your library card. The collection includes Amazon Fire 7 Tablets, Chromebook laptops, WiFi Hotspots, and Chromebook + Hotspot bundles. Library cardholders can visit the catalog or use our mobile app to search for and request any of the devices or the bundle by name. For example, a keyword search for "fire tablet" or "hotspot" will work. Once the devices are on hold at the chosen library branch, they can be picked up at regular Grab & Go lobby service hours. Borrowers must be 18 years or older, and a lending agreement must be signed. The checkout period is 3 weeks, just like all other library materials. Instructional guides in English and Spanish are available.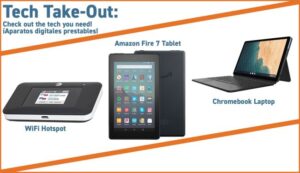 Recursos tecnológicos gratuitos para conectarse a Internet durante el refugio en el Hogar
Las Bibliotecas Públicas de Santa Cruz (SCPL) han creado una colección de aparatos tecnológicos prestables que se pueden sacar con su tarjeta de biblioteca. La colección incluye tabletas Amazon Fire 7, laptops Chromebook, hotspots WiFi y paquetes de Chromebook + Hotspot. Personas con tarjetas de la biblioteca pueden visitar el catálogo o utilizar nuestra aplicación móvil para buscar y solicitar cualquiera de los aparatos o el paquete por nombre. Por ejemplo, una búsqueda de palabras clave como "Fire Tablet" o "HotSpot" funcionará. Una vez que los aparatos estén en listos en la biblioteca elegida, se pueden recoger en el horario habitual de servicio del vestíbulo Grab & Go. Los usarios deben tener 18 años o más y se debe firmar un contrato de préstamo. El período de préstamo es de 3 semanas, al igual que todos los demás materiales de la biblioteca. Hay guías de instrucción disponibles en inglés y español.