Welcome Landlords!
It Pays to Be a Landlord!
The Housing Authority offers a $2,000 bonus to property owners in Santa Cruz County who lease to Housing Choice Voucher participants that hold certain special purpose vouchers.
Tenants who receive these special purpose vouchers are referred to the HCV program by the Housing for Health Partnership and are supported by our community partners.
To learn more about this incentive and the qualifying voucher types, please click here to view the flyer. If you're interested in renting to a special voucher holder, please contact Abode Services by email at [email protected] or by phone at (510) 435-8881.
---
Thank you for your interest in the Housing Choice Voucher program! You can earn market rate income while helping low income families, and helping your community!
At the Housing Authority, we are committed to providing excellent customer service to our landlords! Please take our brief landlord survey and let us know how we are doing. Your feedback will assist us in serving you better.
There are lots of benefits for landlords that participate in the Housing Choice Voucher program (Section 8).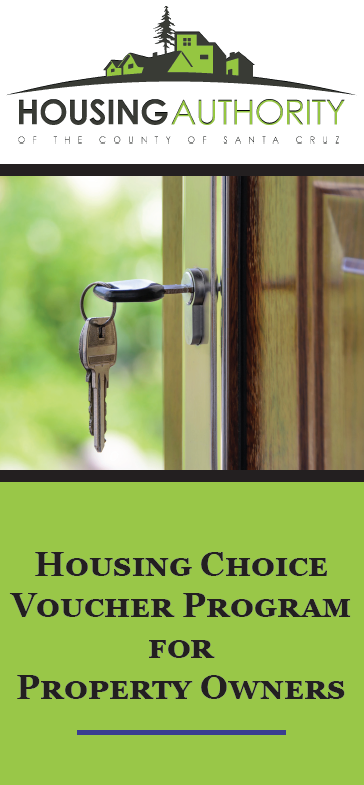 Additional benefits include:
Landlord Incentive Program can reimburse for damages, unpaid rent or more
Prompt and consistent payment
Direct Deposit on the 1st business day of the month
You establish the rent
You can choose a month-to-month contract, a 6-month lease, or a 1-year lease
List your rental property for free at AffordableHousing.com
Convenient features for busy landlords such as single primary point of contact, web portal, walk-in hours, and more!
Here's a brochure that details these benefits.
Landlord Bonus
Landlords can receive a signing bonus of $2,000 when they rent a unit to an individual or family that is currently homeless and has an Emergency Housing Voucher.
Finally, our newest benefit may be our best yet: the Landlord Incentive Program!
This program serves landlords with rental units through-out Santa Cruz County, including the cities of Santa Cruz, Watsonville, Capitola, and Scotts Valley. Landlords can make claims for reimbursements – up to $5,000 for damages, unpaid rent, legal costs and vacancies. Click here to learn the conditions and options.
If you would like to add your vacant unit to our free rental listings, go here.
Si desea una traducción en español, por favor llame al (831) 454-9455.