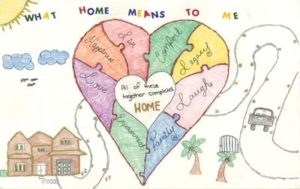 The Housing Authority of the County of Santa Cruz invites all children and youth (grades Kindergarten through 12th grade) who are residing in assisted housing to create a poster on what home means to them. We will award three winners, one for each school-age group, with a $50 gift card for art and school supplies, an annual family membership to the Santa Cruz Museum of Art and History (MAH), and a framed copy of their poster. We will also frame a copy of the winning posters to hang in our office lobby, and submit the original copies into a national contest!    Twelve national winners will receive a $100 Visa gift card, and the grand prize winner will be awarded an iPad, and a trip with a family member to Washington, D.C. where he or she will be honored at a national conference and receive a tour of Capitol Hill.
School-Age Groups:
Elementary – K to 5th grade;
Middle – 6th – 8th grade;
High – 9th – 12th grade
Theme – "What Home Means to Me"
Size – All posters must be 22" x 28" flat enough to mail
Media – Contestants may use any art media (marker, crayon, paint, collage, textiles, etc.), but please consider that posters will need to be packaged, mailed and reproduced
Provide a short written description on "What Home Means to Me." Sign the permission/release form.
Questions? Please call Kate at (831)454-9455.
Due Date: January 17, 2019
*   *  *  *  *  *  *  *  *  *  *  *  *  *  *  *  *  *  *  *  *  *  *  *  *  *  *  *  *  *  *  *  *  *  *  *  *  *  *  *  *  * *  *  *  *
Concurso de Arte: "Que significa para mí el hogar"
La Autoridad de Viviendas del Condado de Santa Cruz invita a todos los niños y jóvenes (grado Kindergarten a 12 grado) que residen en viviendas subsidiadas a crear un póster sobre qué significa para mi el hogar. Tendremos tres ganadores, uno por cada grupo de edad escolar, con una tarjeta de regalo de $50 para artículos de arte y escolares, una membresía anual al Museo de Arte e Historia de Santa Cruz (MAH) para la familia, y una copia enmarcada de su póster. Tambien enmarcaremos una copia de los posters ganadores y los colgaremos en nuestra oficina y enviaremos las copias originales a un concurso nacional! Doce ganadores nacionales recibiran una tarjeta de regalo Visa de $100, y el ganador del premio mayor recibirá un iPad y un viaje con un miembro de la familia a Washington D.C., donde el o ella será honrado/a en una conferencia nacional y recibirán un recorrido por el Capitolio.
Grupos de edad escolar: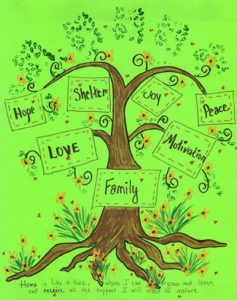 Primaria: de K a 5º grado
Intermedia: de 6º a 8º grado;
Secundaria: de 9º a 12º grado.
Tema – "Qué significa para mí el hogar"
Tamaño – todos los pósters deben medir 22×28 pulgadas, planos suficientemente para enviar por correo
Medios – el concursante puede usar cualquier medio astístico (marcadores, crayolas, pintura, collage, textiles, etc.) pero por favor consideren que los pósters tienen que ser empaquetados, enviados por correo y reproducidos.
Proporcione una breve descripción escrita de "Qué significa para mi el hogar". Firme el formulario de permiso/autorización
Preguntas? Por favor llame a Kate al (831) 454-9455
Fecha para entregar el Póster: antes del 17 de enero de el 2019