Following are links to a wide variety of community resources. We hope that you find these resources helpful. Please note that the Housing Authority does not endorse or recommend any particular service, business, or agency.
Housing Resources
Renting and Housing Search Assistance
Homeownership
Local Government Housing Programs
Food and Nutrition Resources
Quality of Life Resources
Education
Community Benefits and Resources
Resources for Seniors and Persons with Disabilities
Resources for Veterans
Violence Against Women Act Resources
Healthcare Resources
Identity Theft Resources
Improving Access to Essential Services and Bridging the Digital Divide
Immigration Resources
Housing Resources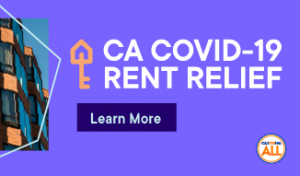 CA COVID-19 Rent Relief will help income-eligible households pay rent and utilities, including "back-rent" owed to your landlord, and future rent payments.  Click here for more information.  The Rent Relief call center is now available to get help answering eligibility questions, for application assistance, and to provide information on local assistance. Tenants and landlords can call 1-833-430-2122 between 7 am and 7 pm daily.  Assistance is available in 20 languages.
For assistance with rent owed to your landlord or utility companies due to COVID-19 impacts, visit https://housing.ca.gov/ or call
In Watsonville:
CAB 831-778-4535
FIT 831-740-2947
LMRC 831-724-2997 x208
In Mid and North County:
Community Bridges 831-316-3222
Renting and Housing Search Assistance
Online apartment listings in the South Bay area.
Search the classifieds here-Santa Cruz Sentinel.
Watsonville Register-Pajaronian Search the classifieds here.
Search the classifieds here-San Benito.
HUD's resources for renters includes links to privately owned subsidized housing, Public Housing, rental help by state, and properties with Low Income Tax Credits.
The California Department of Housing and Community Development, offers an Affordable Housing Rental Directory  that is regularly updated. It's listed by county and provides contact information for rental homes that may be available.
If you are experiencing homelessness in Santa Cruz County and are looking for a permanent place to call home, the first step is to complete a Smart Path Assessment. To find out where you can complete an assessment, please visit one of the Access Points listed here, visit the 211 website, or call 211 to speak to someone about getting assistance.
Human Services Department of the County of Santa Cruz COVID-19 and Homeless Services.   Informational page for homeless services providers, persons experiencing homelessness or seeking assistance with meeting basic needs.
Monterey and San Benito County Emergency and Day Shelter Referrals – This 2018 list includes all emergency shelters and centers serving persons experiencing homelessness.
Homeownership
HUD's resources for first time homebuyers.
Information about reverse mortgages from HUD.
Homepath – Fannie Mae's resource page for first time homebuyers.
Keep your Home California – Programs designed to help you keep your home if you have suffered a financial hardship.
Local Government Housing Programs
Santa Cruz County – The Housing Section of the Planning Department's current housing activities include partnering with non-profit affordable housing developers to build new affordable units and supporting a variety of efforts to create affordable housing opportunities in the community.
City of Capitola –  The Community Development Department is responsible for administering the City's affordable housing programs. The City provides funding for the emergency housing assistance program, security deposit assistance and the inclusionary (affordable) housing program.
City of Santa Cruz – The Economic Department of the City provides housing assistance information.
City of Scotts Valley –  The Planning Department of the City provides information on affordable housing programs
City of Watsonville – The Community Development Department of the City has first time homebuyer's assistance, down payment assistance, and rehabilitation assistance.
Food and Nutrition Resources
Second Harvest Food Bank:  https://www.thefoodbank.org/food-distribution-nutrition-education-locations-times/ or call the hotline (831) 662-0991 8AM – 4PM, where they will help you find the closest location to you. San Benito County residents, call (831) 637-0340.
Great Plates Free Meals for Seniors: A new state program called Great Plates is currently being established for adults 65 and older, and adults 60-64 who are at high-risk from COVID-19 and have limited incomes, to stay home and stay healthy, by delivering three nutritious meals a day, while also providing essential economic stimulus to local businesses and workers struggling to stay afloat during the COVID crisis. The criteria for this state program are here. To apply, call 831-454-4406 or send an e-mail to [email protected]
Quality of Life Resources
Education
GreatSchools is a national non-profit educational resource for parents, with a free web-based tool for parents who want information on local schools. This user-friendly website offers a database of more than 200,000 PreK-12 public, charter, magnet and private schools across the U.S., and includes information on how parents can choose the best school for their children.
Santa Cruz County Office of Education provides student services, academic success support and college or career readiness.  The COE has distance learning resources: https://dlearning.santacruzcoe.org/
Cabrillo College is a public community college that offers academic and career programs, financial aid, associate degrees, and certificate programs and assistance to transfer to four-year universities.
UCSC is a public university that combines the intimacy of a small liberal arts community with the depth and rigor of a major research university.
Child Development Resource Center provides families with help finding child care, provides child care programs/ providers with training and quality improvements, and provides community resources and education on early childhood development.
Community Benefits and Resources
Search the 2-1-1 database
Search 2-1-1 online, a comprehensive community services search tool that connects residents.
www.211centralcoast.org  and www.211sanbenitocounty.org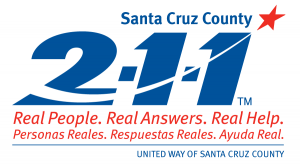 If you would like to receive updates and information about any of our resources, text any of the keywords (in green) below to 211-211 to opt-in. Message and data rates apply.
COVID-19 Provides information on vaccines and testing
KINSHIP We'll connect you to our KinshipCareCA.org website and Call Center
INTERNET To Learn more about low-cost internet
BENEFITS We'll screen you for 18 social safety net benefits at the federal, state and local levels through BenefitKitchen.com
STRESS To learn more about combating toxic stress
GOLDEN We'll walk you through the requirements to see if you qualify for the Golden State Stimulus
The United Way  Coordinates community efforts including Smart Solutions to Homelessness, Children's Network, Youth Programs and emerging community concerns.
Santa Cruz Public Libraries Hosts an online, searchable, Community Information Database.
Learn to develop a spending plan, pay off debt and more: www.MyMoney.gov
Consumer Financial Protection Bureau – Clear, impartial answers to hundreds of financial questions including auto loans, credit cards, student loans, debt collection, bank accounts, credit unions and more.
PensionHelp America – Have a question about your retirement plan? Not sure where to turn for help? PensionHelp America can connect you with counseling projects, government agencies, and legal service providers that offer free information and assistance. By leading you through a series of questions, PensionHelp America will put you on the path to getting the help you need.
Free Federal and State Income Tax Preparation – Find a Volunteer Income Tax Assistance (VITA) or Tax Counseling for the Elderly (TCE) site near you and learn what to bring to have your tax returns prepared.
Benefit Kitchen is an app that you can use to learn about 18 federal, state, and local benefits. It helps residents learn their eligibility for benefits including CalFresh, Medi-Cal, utility assistance, tax credits, and more. The screening is free and we will never ask you for your name, address, or SSN.
Career Centers – A network of centers which offer an array of no cost services for businesses, employees, and job seekers.
The Capitola EDD Center has a Veterans employment services representative.
Community Action Board of Santa Cruz County, Inc (CAB) – Programs assisting low-income people with emergency, sustaining/self-sufficiency services, including the Shelter Project, and information and referral.  The Rental Assistance Program offers eviction prevention to eligible individuals and families. Click here to read the flyer for more information (en español).
Housing Matters (831-458-6020).  Are you or someone you care about experiencing homelessness? Get started on the path to effective services today.
Familywize is a free prescription savings card. No registration or eligibility criteria, you can use it whether you're insured or uninsured, use it every time.
Encompass Community Services  – Child Development Programs, programs for youth, and adults with psychiatric disabilities and substance abuse issues.
Community Bridges – Programs including children and nutrition, seniors and transportation, and family resources centers.
Santa Cruz Free Guide  (Guia Gratis en SC/Watsonville/San Lorenzo Valley) -Information to get free help, meals, showers and toilets.
https://steppingupsantacruz.org/ – Helping people experiencing homelessness find available services.
Free Tax Return Preparation. Call 2-1-1.
The coronavirus pandemic continues to put a huge strain on household finances. Even in a normal year, a tax refund may be the biggest check you receive all year.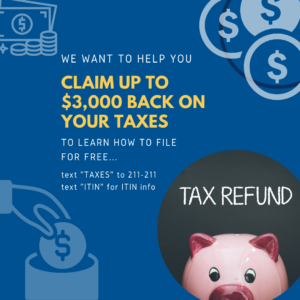 This year, if you qualify for the Earned Income Tax Credit (EITC) or the Child Tax Credit (CTC), the Internal Revenue Service (IRS) is allowing you to choose whether to use your 2019 or 2020 income to receive the most credits for which you are eligible. By filing your taxes, you can also make sure you get any stimulus money you may not have received.
We encourage you to file your taxes as soon as you can to take advantage of this money.
CalEITC – English
Free Tax Preparation Flyer (English/Spanish)
Resources for Seniors and Persons with Disabilities
Vista Center for the Blind and Visually Impaired serves people who are blind or visually impaired.
Senior Network Services Provides information and referral, senior housing, in-home care registry and more.
Senior Council – service, support and advocacy for seniors.
Central Coast Center for Independent Living provides services and support to persons with disabilities.
San Andreas Regional Center serves persons with developmental disabilities Legal Assistance.
Great Plates Free Meals for Seniors: A new state program called Great Plates is currently being established for adults 65 and older, and adults 60-64 who are at high-risk from COVID-19 and have limited incomes, to stay home and stay healthy, by delivering three nutritious meals a day, while also providing essential economic stimulus to local businesses and workers struggling to stay afloat during the COVID crisis. The criteria for this state program are here. To apply, call 831-454-4406 or send an e-mail to [email protected]'
Resources for Veterans
US Department of Veterans Affairs – Health Care, Benefits, Referral to housing assistance and more.
Santa Cruz Veterans Resource Center – VRC offers Supportive Services for Veterans and their Families. The focus of SSVF is housing stability.
Violence Against Women Act Resources
Sexual Assault Services – 24 hour Bilingual hotline: 1-888-900-4232. Monarch Services
The Santa Cruz County District Attorney's Office, Victims Services at 831.454.2400. The National Domestic Violence Hotline: 1.800. 799.7233 or, for persons with hearing impairments: 1.800.787.3224 (TTY). The National Center for Victims of Crime's Stalking Resource Center: https://www.victimsofcrime.org/our-programs/stalking-resource-center
Healthcare Resources
Santa Cruz County Public Health provides no-or-low cost public health, clinical, behavioral health, and environmental health service.
Salud Para La Gente is a nonprofit healthcare organization with clinics in Santa Cruz County and North Monterey County that serves people regardless of ability to pay.
East Cliff Family and SC Womens – Health Center is a nonprofit provider of affordable and comprehensive health services.
Identity Theft Resources
The State of California, Department of Justice.  Identity theft is someone taking personal information like your name, Social Security number, or financial account number and using it for an unlawful purpose. The State of California Attorney Generals Office lists information for consumers and alerts.
The Federal Trade Commission. If someone is using your personal information to open accounts, file taxes, or make purchases, visit IdentityTheft.gov, the federal government's one-stop resource to help you report and recover from identity theft.
Improving Access to Essential Services and Bridging the Digital Divide
Text INTERNET to 211-211 or visit United Ways of California – Broadband – Home to learn more about low-cost internet services and how to apply.
Phone service, both landline and cellphones. The Lifeline program provides a discount on phone service for qualifying low-income consumers.
Financial assistance programs from PG&E. PG&E offers many programs that can help you save money and energy.
Internet Essentials provides low cost broadband services and computers, and Internet training to families receiving rental assistance from a Public Housing Authority or with at least one child receiving free lunch under the National School Lunch Program. Flyer
Access from AT&T – Low-cost wireline home internet service to qualifying households: with at least one resident who participates in the U.S. Supplemental Nutrition Assistance Program (SNAP) or at least one member of your household receives Supplemental Security Income (SSI) benefits.  Flyer   Spanish Flyer
Free or Low-Cost Internet Service and Other Related Resources (Devices and Content) that can assist HUD-Assisted Residents during COVID-19 crisis, This list was prepared by the Community & Supportive Services Division, Office of Public Housing Investments, 3.17.2020
Free Technology Resources for Internet Connecting during Shelter-In-Place
The Santa Cruz Public Libraries (SCPL) have created a collection of lendable technology devices that can be checked out with your library card. The collection includes Amazon Fire 7 Tablets, Chromebook laptops, WiFi Hotspots, and Chromebook + Hotspot bundles. Library cardholders can visit the catalog or use our mobile app to search for and request any of the devices or the bundle by name. For example, a keyword search for "fire tablet" or "hotspot" will work. Once the devices are on hold at the chosen library branch, they can be picked up at regular Grab & Go lobby service hours. Borrowers must be 18 years or older, and a lending agreement must be signed. The checkout period is 3 weeks, just like all other library materials. Instructional guides in English and Spanish are available.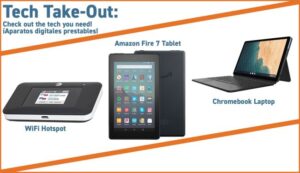 Learn more about energy efficiency through the federal Energy Star program.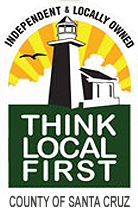 Immigration Resources
The mission of the Housing Authority is to promote access to quality affordable housing, utilize housing as a platform for improving quality of life, and support inclusive, healthy and sustainable communities free from discrimination. In this spirit, the Housing Authority has compiled a list of resources for immigrant families, many of whom have expressed concern about recent changes in immigration policy and enforcement.
Please see these links to the flyer Getting-the-Help-You- Need: https://protectingimmigrantfamilies.org/